Home » One million pibble march on Washington D.C.
One million pibble march on Washington D.C.
Who: You! Or anyone interested in ending discrimination, abuse and breed specific legislation (or BSL)
What: Stand up for Pits
When: May 3, 2014
Where: The West Lawn of the US Capital, 12:00 pm
Now the why! Pit Bull. Never before has one dog breed stirred up so much unwanted attention and discrimination that they unwillingly become characters of a nightmare. It wasn't long ago that Pit Bulls were the trusted family "nanny" dog. Several photos from the 1920's show children standing beside their loyal family dog, or lovingly tugging on their pibble's ear. They have been owned by three US Presidents, countless celebrities (Mary Tyler Moore's pibble alerts when her blood sugar drops) and several American geniuses including author John Steinbeck. These incredibly smart dogs were so admired for their loyalty and bravery that they were considered "America's Dog" and used on posters during World War I to sell war bonds and recruit for the U.S. military. President and CEO of the Washington Humane Society Lisa LaFontaine says, "If you take a historical look at the breeds involved in dog attacks, the dogs that had been trained by certain elements of society to be aggressive were the pariah breeds of their era. It was really when gangs adopted Pit bulls that they became the latest pariah…these happy, healthy, well-adjusted dogs became a symbol of drug culture and violence because unfortunately, you can take all of a Pit's positive traits and turn them negative."
Famed comedian Rebecca Corry knows this all too well. Her rescued pit bull Angel is now a poster girl for pibble awareness. Angel didn't always live the good life. Angel was found running the streets of Los Angeles severely abused, tortured and subsequently scarred. Her ears had been cut with scissors and she had acid burns on her back. Yet after all the awful things Angel has endured, she knows only how to love. She lives for applause, as she can frequently be found with Corry at any number of her stand-up shows offering kisses for a dollar from her very own kissing booth. You can read more about Angel's heartwarming story here. "These dogs also flood shelters where they are euthanized at alarming rates. The One Million Pibble March is designed to bring breed awareness to the greater public and to protest against laws that specifically target pit bulls (breed specific legislation, the controversial laws are called)". Quote from Arin Greenwood of the Huffington Post.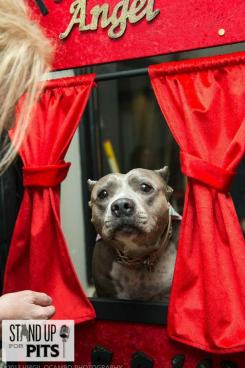 There are many things you can do to help! You can donate to the cause directly by clicking here and going to the GoFundMe link on the left-hand side of the page. Or you can purchase a T-Shirt (click here for the T-Shirt) or hoodie (click here for the hoodie). You can also sign the pledge and support us on facebook by spreading the word. You can also make your presence speak volumes without a word and attend the march in May! Tom & Cindy's very own Sharyn Tomita will be marching and we are so proud to support her. Way to go, Sharyn!
---