Home » Market Update: January 2018
Market Update: January 2018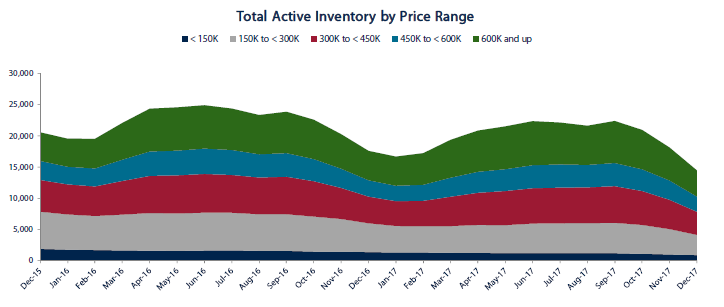 We are pleased to share our latest market update for January 2018. Sellers, as the graph above shows, this is your time! Inventory, which usually starts to rise after everyone puts their holiday decorations away and starts the new year, has actually fallen in the last two weeks. Thus, interest in homes that look great and are priced correctly is lively, even into the million dollar range. We've sold several residences in the last couple of weeks that received multiple offers.
Sellers that want their children to finish the school year usually don't put their homes on the market until mid-April. So there's a kind of magic time between now and then, made even more special by the lack of competition. As an example, let's look at zip code 22315 in Alexandria, Va. There are currently only 63 homes on the market…that's everything from a 1-bedroom condo to over a million dollar listing. This is about what we saw in the go-go years of 2004 and 2005.
Some sellers have asked us…"well we get that supply is low, but what about demand?" We're happy to report that January is reflecting a healthy appetite for both first-time buyers and move-up buyers, along with a high desire for over-55 new-home communities currently under construction. Continued low interest rates along with pent-up demand and low inventory makes this an excellent time to sell. If you are considering a sale, we'll be happy to give you more detailed information tailored to your exact situation. We'll ensure that you get the highest price the market will allow. Give us a call at 703-822-0207 or e-mail us at tomandcindy@hellovirginia.com anytime.
Thinking about selling but not ready to talk? Click here for a FREE, no obligation home valuation.
---