Home » Check Out Haute Dogs & Fries in Old Town Alexandria!
Check Out Haute Dogs & Fries in Old Town Alexandria!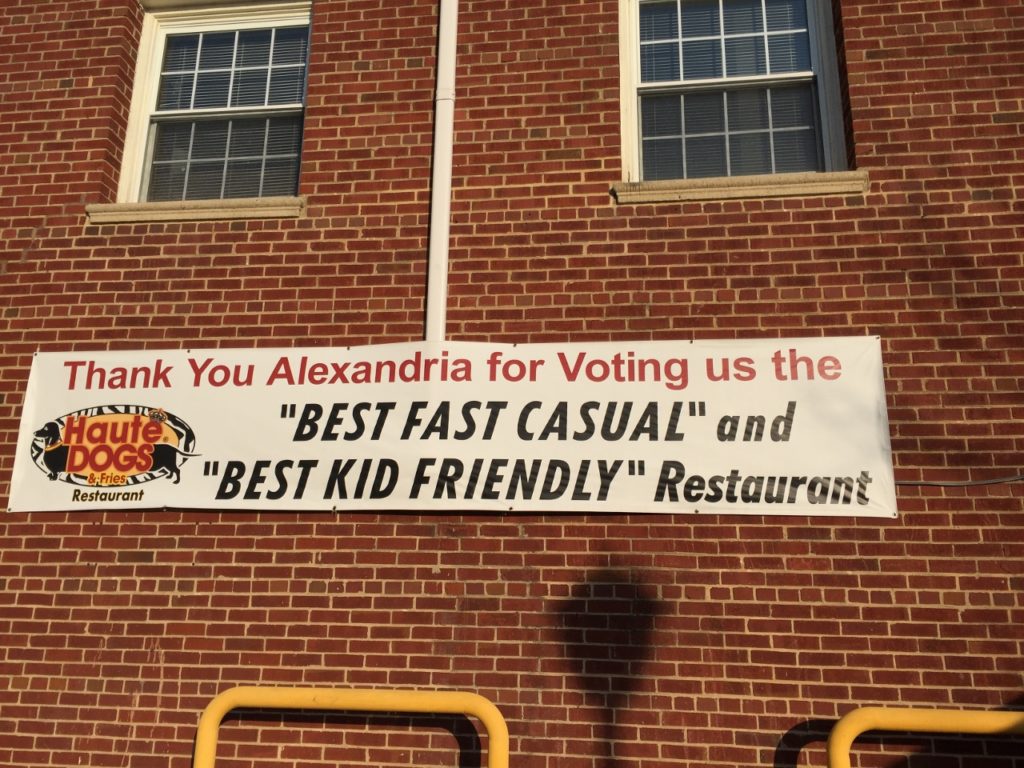 Tom and I were out and about in Old Town Alexandria a couple of weeks ago and were getting hungry for lunch. Something light, yet fun and different…that's what we were looking for. We heard about Hank's Pasta Bar, so we headed in that direction (north end of Old Town), but despite the tasty-looking menu, we ultimately chose to wait on that one for a dinner out. We kept driving and came across Haute Dogs & Fries, only a couple of store fronts down from Hank's. They have a great selection of hot dogs, along with kielbasa and locally sourced sausages from Loudoun County. There are tons of "signature dogs", such as the Three Piece Suit (chili, melted cheese, chopped onions), District DC Dog (blue cheese, BBQ sauce, yellow mustard, chopped onions, dill pickle), Duck Duck Dog (hoisin sauce, scallions, cucumbers) and the Chi Wee Wee Dog (black beans, tomatoes, sour cream, chopped onions), or you can create your own from their endless list of toppings. Check out the complete menu here. We both actually opted for the kielbasa, mine without sauerkraut and with yellow mustard, Tom's with sauerkraut and brown mustard. We also split a basket of fries, which is plenty for two to share! Everything was delicious, the staff was super friendly and the atmosphere was fun. There is a huge chalkboard that lists all their dogs, and the restaurant is decorated with cute framed photos of dogs. We'd definitely go back, so be sure to check this one out when you are looking for lunch in Old Town!
Contact Details:
610 Montgomery Street, Alexandria VA 22314
(703) 548-3891
Web: http://www.hautedogsandfries.com/
Coming up later: a review of our dinner at Hank's Pasta Bar!
Susan Hall
---