Home » Hassle Free Hosting: Thanksgiving & Christmas!
Hassle Free Hosting: Thanksgiving & Christmas!
Are you hosting Thanksgiving or Christmas this year? We've put together a list of some tips to get you through relatively stress free!
First off, be sure to give yourself enough time. Consider using a party planning schedule like this one to make things easier. Plan your menu, shop for non-perishables and assemble serving trays as soon as possible.
Next, streamline your menu. Instead of preparing tons of different items, choose a few dishes, but make them special! Use easy-to-make recipes that won't make you spend your entire party in the kitchen.
Have you ever set up "Hosting Stations"? Instead of having everyone congregate in the kitchen, set up an appetizer station in the family room, while arranging a cocktail station in the living room.
Accept help from others! If someone asks to help you set thing up, or bring a dish, encourage it. If Aunt Mary has a great recipe for green bean casserole, let her make it! You may also want to suggest something specific so it fits in with your party plan.
Give us your ideas for Hassle-Free Hosing?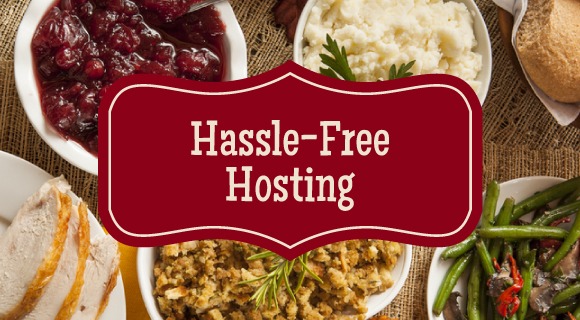 ---