Episode 43 | Fall 2019 Market Update
Curious about the Northern Virginia real estate fall market? Today we're going to fill you in.
Hi everyone, Tom Pietsch with Tom & Cindy and Associates at Long & Foster. I'm here today with longtime associate and super realtor Jim Patrick and Jim how's the market? You know Tom, it's going really well. We're actually still in a strong seller's market even though we're getting into fall right now. It's mid-October. Inventory's still incredibly low, but demand, the buyer demand is still there. Anything that's priced right shows well. It's still moving quickly. Interest rates are still very good. Under 4%, 3.875% around that, so that's getting a lot of buyers out and purchasing properties still with those low interest rates.
Awesome and what we're seeing though is there's still some sellers that are thinking that Amazon's coming to Crystal City, so all of a sudden it's like they won the lotto. So some of these sellers, they're neglecting to do some of the work that they probably should do to ensure that they're going to get top dollar and they're pricing their homes a little bit higher. For some buyers, they've really got a nice window to do some negotiating that they didn't have earlier in the year.
We have seen the days on market creep up a little bit, but it's not homes aren't selling. It's exactly like Tom said. Some of that aspirational pricing, that sellers are coming in thinking that their home is worth more, whether it's the Amazon effect or just thinking it's maybe a little nicer condition than it is. And those ones are still sitting on the market a little bit longer. Yeah, anything that's priced right, that shows well, has some updates, those homes are moving quickly right now.
And the difference between this year and the last four years is the inventory was low in this year and the previous four, but once April came and the people that were selling and wanted their kids to finish the school year, inventory came on the market and so prices kinda leveled off, but this year inventory's just as low as it was in the spring. Very unusual, but our fine folks in the Long & Foster marketing department have put together some graphs and some visuals to illustrate what we're talking about.
Okay, let's dive right in here. So our office is located in the Kingstowne area of Alexandria and looking left to right you can see there have been more sales this year and then as we get into inventory, which is amount of homes on the market, has been down and remains low. Sales prices have gone up. Days on the market have been low all year but have ticked up a little bit as we head into the fall and some homeowners have gotten a little bit overambitious with their sales prices and maybe a little overconfident that the strength of the market would have them not have to make needed repairs or upgrades.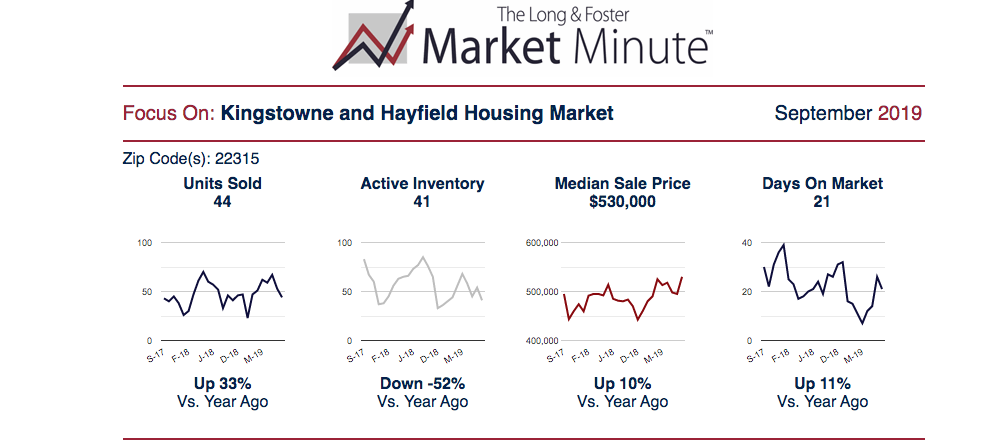 Expanding to the rest of Alexandria, we can see that the number of units sold is down by 5% and that's because the number of units available is down 43% so inventory's been really low all across the board. Sales prices have gone up. Days on the market are down and that's easy to see why, because a lot of demand with low interest rates and fewer houses leads to people having to compete over the homes that do go on the market that are really nice and are priced right.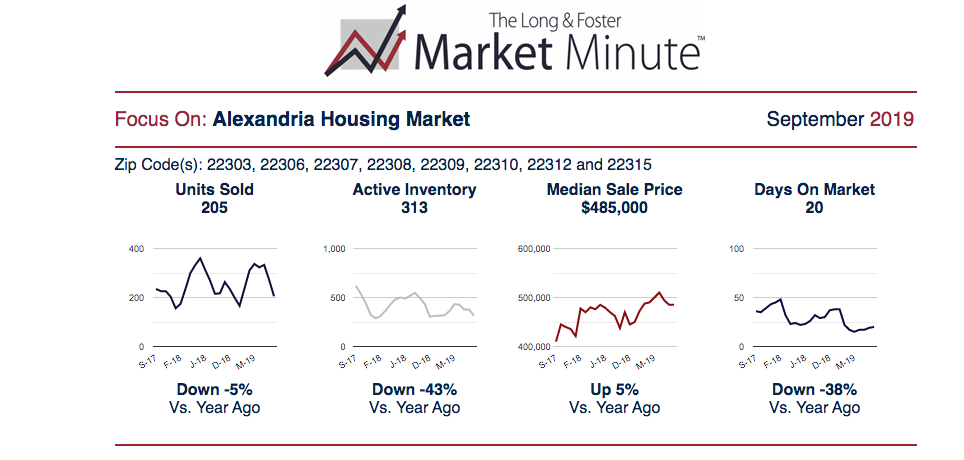 Moving up to the big picture view of all of Fairfax County, you could see that while the number of homes sold this year is up, the last 30 days sales have gone down just a little bit. Inventory remains super low. The median sales price, well it's gone up again, the last 30 days down just a tad and days on market, while they're still really low, just up a tad the last 30 days so it shows us that sellers are gonna need to be a little bit tighter with their pricing.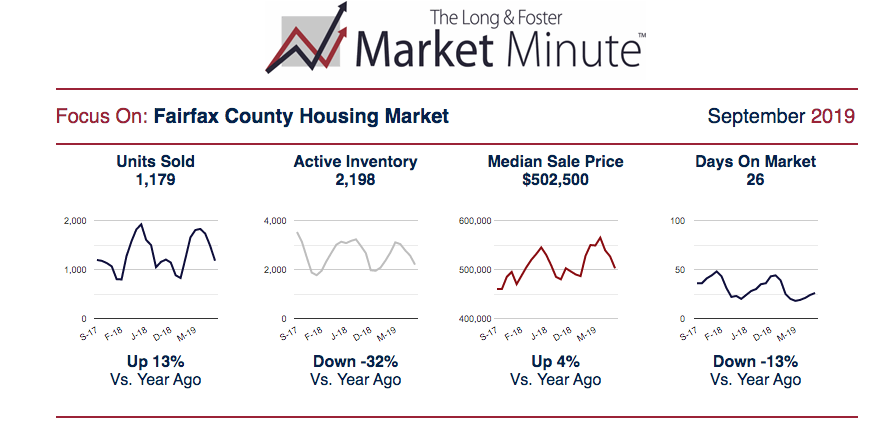 So as you can see from those market stats, we are in a strong seller's market, but that by itself is not gonna get you top dollar for your home. Having a great team on your side that can walk you through the process, that's gonna help refer contractors so you can do some updates, do a little touch up on the property, a marketing plan that's gonna get you exposure, even get you some momentum before you're going on the market and just lots of other things that our team does that's gonna help you not only get top dollar for your home, but also have a great experience while you're doing it.
Whether you're thinking about selling before the end of the year or you're planning on selling in 2020, we want to talk to you today so we can help get you on the right track. So give us a call. 703 822 0207.
Thanks so much for watching this video. We release new videos each and every Wednesday, so feel free to go ahead and subscribe to our YouTube channel. We look forward to seeing you next week.


Are we connected on social media? We'd love to have you join us on Facebook, Instagram or YouTube!
---