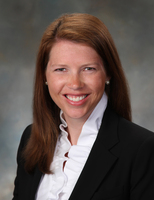 Realtor
Nichole@HelloVirginia.com
Office: 703-822-0207
Cell: 703-667-0549

Nichole Gable was born in Chicago, and then relocated to Northern Virginia. She has her master's degree in accounting with a concentration in forensic accounting so you can count on her attention to detail. She has 10+ years experience working for the government honing her communication, analytical, and negotiation skills. These skills and her experience working as part of the Tom & Cindy team enable Nichole to provide her clients with exceptional service and expert advice. She prides herself on her ability to build relationships based on trust and care.
Nichole and her husband, Bill, have three children. She enjoys reading, watching her daughters play softball and basketball, and beach vacations to the Florida Gulf Coast. Nichole and her family reside in Lorton.